ArcaOS 5.0 Russian
Russian ARCAOS exists and it's available since the middle of 2017. All versions are supported: 5.0, 5.0.1, 5.0.2.

eCo Software is able release OS/2 LIP packages for any other language (German, Dutch, Brazilian Portuguese, Spanish, Sweden, etc)
Evolutionary Sprint 2006/12

TITLE: Evolutionary Sprint 2006/12
DATE: 2006-12-02 19:40:16
AUTHOR: eCo Software

 Evolutionary Sprint
 Revision: 20061201

This article contains the plan of evolutionary eComStation development approach.
Synopsis: The only way to keep OS/2 platform alive is continue evolutionary development; Every member of the community has obligations and he should fulfil them to achieve common prosperity.
We offer "Evolutionary Sprint" way
Evolutionary = don't migrate to other platform
Sprint = 1-2 years to improve situation (starting from fall 2006)
1. Model
First of all, let's select the model to simplify the analysis and selection of futher development direction.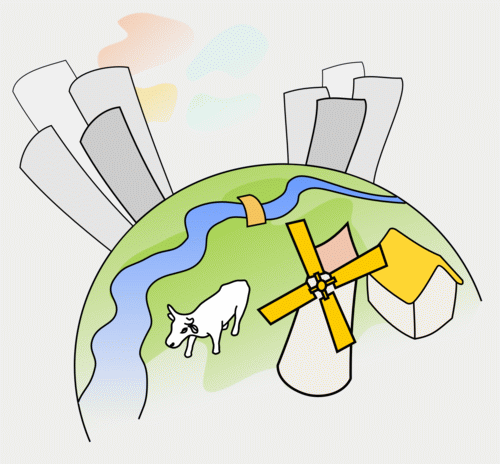 Let's imagine that OS/2 community is living in eComStation village (there is a Linux and Windows megapolises on the horizont). We are separated from the other world and have own government, own traditions, interests and laws.
Any modern village usually has similar problems. eComStation (OS/2) village surfers from devastation:
there is Unemployment (not all developers have salary)
Emigration (we are lossing people every month)
Leak of technologies (Many eCS software is ported to Windows)
Weak psychological state of users which do not participate in projects
No large factories, no external investments
No killing applications (i.e. applications which don't have analogues in other OSes)
Nevertheless, there is a hope to make the life in the village better. Every week we can see that:
there are many specialists around
the community is not divided (this offten happens in other communities)
We can run eCS on modern PC again (ACPI, GenMAC, etc)
We have traditions and advanced technologies
The listed problems make users and developers search a salvation way. There were 2 projects which offer move to Linux platform and immitate OS/2 feel and view.
Let's call this way as "China-town in Linux megapolis".
This way of development is good for organizers of China-town
Bad for developers of eComStation software
Good for some consumers (users)
Death for those who stay in the village
We appreciate the efforts of users and developers which are working on this projects but we should assume that people will become assimilated in 1-2 generations. New system always means new customers, new technologies, tips&tricks. OS/2 developers will spend many efforts to duplicate the original system and this will make them spend all time in Linux.
It is offered forget about the users going to Linux. We can't stop them and we should care about alive users.
In the same time, we don't deny the importance of Linux.
Linux today is a source of hi-tech raw materials:

Usually we Import black box (get working linux program)
Add native GUI (integrate into Workplace shell)
Add interoperability with other native applications

In result we get new native application. It's good but this doesn't give competitive advantages over Linux. We always stay behind the competitor (To check this, imagine that instead of 100 applications we have 10000 linux applications).
2. Current status
Let's find the answer, why do we use eComStation?

date: 20061201, 415 voices
The results of the poll show that half of users are fans, the second half are using the system for everyday purposes and it fits their needs.
The same may attract new users. Other people will join us
If we advertise our platform
If we prove that this is the best OS
If we offer Useful software (better: we are monopolist of necessary software)
If we offer high&easy earnings to new users and developers
Let's continue the investigation, What is the current state of the system and community (achievements and problems):
Advantages:

There are many specialists
Modern PCs are supported
All developers are loaded
Software updates every day
We are small and mobile
Alive sites, alive companies
etc.

Problems:

There are barriers
Tons of bugs in OS
We don't export news to IT world
Poor communications
Every member is working alone
No toolkits, to templates of apps
etc.
The are barriers which can't be broken
Frozen 32-bit kernel (Where is the list of needed features?)
Java Virtual Machine (Show me the company which is able port it)
Video drivers (every alternative OS has this problem)
Decrease of population (Don't drink beer)
USB problems (Flash disks, USB keyboards, slow speed, bugs)
PM improvement
Missing source code of system component
etc.
We don't have resources, specialists and experience to break this barriers.
We should improve the way of work and start with simple rules:
Don't shoot fake targets. Make software to increase population.
Improve infrastructure, optimize processes
Found the Corporation of eComStation users and developers
Joint design and analysis of software
Barriers may be broken step by step
After population increase
after Create & promote medium size software
If we create templates for such apps and users participate as professional beta-testers
If we determine the list of templates
.. (help us construct the sequence)
3. Roles
Every member of the community should know own obligations and fulfill them to achieve common prosperity.
Government should care about:
Roads

How to deliver products to users (How to sell software on eCS market. Provide working infrastructure)
How to create apps from A-Z (Where to find components and quickly assemble new product)
How to find needed solutions and programs

Migration politics

How to attract 10 developers, 1-2 companies to our market?
How to feed every specialist. And don't allow him emigrate
Make developers use common libraries (I/O Procs)

Education

Build large factories and manufacture complex software:

In other words it should bring Office suite, Virtual machine and other large industrial software.

Statistics:

Government should contact all solutions developers and query which libraries and technologies do they need in the next few monthes? This will allow improve the operating system and bring additional income to solutions developers.

Companies should do:

Publish reviews how to earn money on eCS market
Invest into creation of new solutions based on OS/2

Companies should establish positive investments climate with support of the Government.

Resellers should do:

eComStation PC
Describe the operating system (while no marketing department)
eCS FAQ maintain

Developers should improve technics:

Exchange knowledge, exchange libraries. Create templates of apps
Don't start project alone. Find a fellow worker. Division of labor.
Spend more time to design of software (designers)
Improve communications. 2007 is the year of web-cameras and IPhones
Automate processes (bug-tracking, CVS, ..)
Result of work should include modules for common use
Use I/O Procs and other system modules

Create more WPS applications

Allow user select/search files using WPS
Unified view of applications
Your product is improved when WPS is updated

Developers should switch to creation of node applications:

Example:

Step A: Select sub-utility and sub-operation:

Graphics: rotate, clip, flip, ..
Sound: change volume, reverse, ..
Other files: rename, copy, ..

Step B: Select group of files
Step C: Execute operation

Such application may represent the operating system, separate modules are too small and cost ~0 USD.

Users should do:

Write overviews of software
Export eComStation news to the Windows/Linux sites, promote the features of our OS and software
Demand software/drivers creation
Participate in beta-testing
Make 2 developers join if see that their applications may be combined
"This day in eComStation and OS/2 history"

In other words, only users are able promote the operating system and its software.
| | |
| --- | --- |
| | "e-ball club" -- the only way to promote OS and software. Here is a simple proposal of such club. |
How to become member? User or developer should periodically make some work. For example, user can execute one of such tasks:
| | | |
| --- | --- | --- |
| | Rubber e-ball | Golden e-ball |
| Publish articles/reviews | 4 reviews/year | 8 reviews/year |
| Development of app/driver | 10 users | 100 users |
| Site maintance | 100 visitors/day | 500 visitors/day |
| Annual payment (to make people select previous variants) | 100 USD | 500 USD |
Privileges for members of e-ball club
| | | |
| --- | --- | --- |
| | Rubber e-ball | Golden e-ball |
| Discounts for software purchase | 10% | 20% |
| Conferences tickets | local continent | other continent |
| The club investes into funds | 100 USD | 200 USD |
| Souvenirs for every season | for summer | summer and winter |
Students / sci-tech labs -- the salvation of OS/2 platform
They are able bring "know-how"
They have spare time, learn computer science
They are open for everything new and ar able study OS/2 in short time
They have many friends which may be "infected"
They have parent which pay for bills

How to attract?

Let's declare eCS as "OS for students"
Accumulate math/chemical apps
Accumulate programs created by students
Give them old versions of eCS and OS/2
eComStation PC - the only way to deliver eCS to new users
Resellers order special software for eCS PC
No problems with LVM, ACPI
May reduce the price of eComStation
Allows sell eCS to new users
Commercialization -- the only way to attract new developers
If you open own company -- you take responsibility
All software should be valued. Declare price $10 but don't restrict user
Find like-minded person and found virtual company
Join small applications (0.1$ + 0.1$ + .. ) to large one.
What is the goal?
Developers from other OSes will see that we have strapping market and watch our platform.
Money is like blood.
4. Current goals
The strategic goal is brake the barriers. We should start preparation for this today.
Plan for year 2007 (list of applications and drivers which may/should be created, eCo Software is going create):
Operating system
JFS.IFS will be improved
Good VESA driver will be created (widescreen, overlays)
Large icons on desktop
More small PM system utilities and applications (10-20)
Multimedia subsystem improvements (Triton), 2-5 multimedia apps
Software
More catalogue software (eSchemes Deluxe)
1-2 developers from Win/Lin world may port medium applications to eCS
Device drivers:
Drivers/control applications for 20-30 types of USB devices
USB web-cameras will become supported
5. Conclusion
Let's look at the cycle of eCS life
Black pictures is the existing cycle: Government .. developers.. testers.. resellers.. users..
As you can see, we offer improve the critical nodes in eCS cycle. This improvements are drawed with red color. We suggest how to simplify and improve development of software, who may join community, how to bring money to eCS resellers.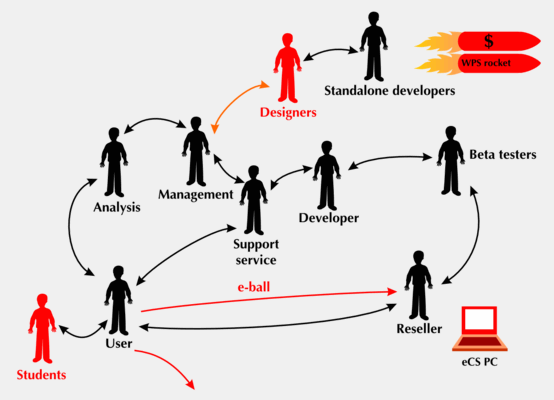 Slogan: Let's create more original software for eCS users, then promote it on other markets to attract new users
6. Additional information
| | |
| --- | --- |
| Test the program: | Virtual machine for eComStation? How to run eComStation inside virtual machine? (Read more..) |
Comments:
Comment this article.
| | |
| --- | --- |
| | eComStation 2.0 can (automatically) switch between WiFi and Ethernet without headache. eCS 2.0 what's new? |