The fourth quarter is the most strenuous. Seems that we survived it. Large projects were debugged, new utilities created. We presented our solutions at Warpstock Europe 2006 (7 appearances) and the main goal today is withstand users pressure.
eCo Software laboratory (aka #ecolabs)
eCo Software is testing "engineering sample" Intel motherboards with EFI "INTEL DG965RYC".
Warpstock Europe 2006
The presentations were prepared by large group of developers and consultants from other teams.
Developers of native eComStation software vote for evolutionary way of the operating system development. The main idea of the Evolutionary Sprint (aka ES-Way): "Let's create more original software for eCS users, then promote it on other markets to attract new users". Read the introduction to ES-way: "Community perspectives"
"eComStation is ready for modern notebooks and desktops" - report about current status of ACPI subsystem. Thanks to ACPI, we can use modern Core 2 Duo, AMD X2 notebooks and desktops, setup IRQs, control power consumption. The secret purpose of ACPI driver is reanimate sleepy developers of device drivers, they are updating own drivers for compatilbity with new generation of eComStation.
"Modern eComStation Desktop" - we demonstrated new WorkPlace Shell extenders and applications which bring life to the desktop (eSchemes, eSchemes Deluxe, Personal Cards Manager, Central Remote Control, USB Dock, etc)
Disk utilities
Download repacked JUne (contains updated translations: Italian, Danish, etc). JRescuer (JUne) best-seller is aimed to unerase files from JFS volume, recover files from damaged JFS volume. Read more about modern features of JFS.IFS for eComStation
USB applications
USB Dock 1.7 is released. Whatsnew: more NLS resources, more devices added to database.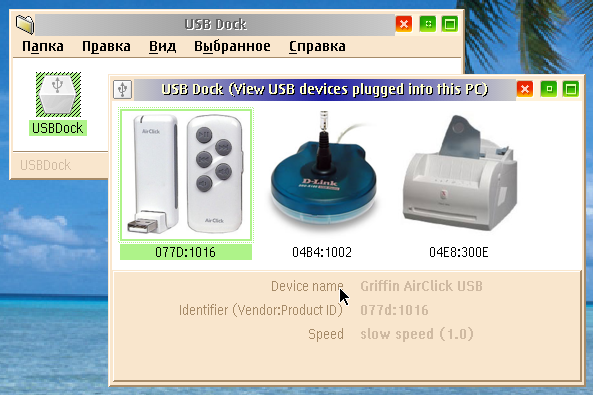 Screenshot: USB Dock
Internet utilities
WorkPlace Shell extenders
ACPI drivers
To accelerate the final stage of ACPI development, we invite testers to ecolabs irc-channel. The testing may require 30 minutes or 1 month x 2 hours per day.
ACPI 2.15 was released. Please read all documentation and FAQs again. There are many notes for users which want run eComStation on multiprocessor computers. Now you can run SMP machine with SATA controller without extra efforts (simply enable snooper with default acpi.cfg, acpi.psd /SMP), Whatsnew: Multiprocessor Dell notebooks are working with ACPI now, fixes for embedded controller support, throttling, OEMHLP$ driver (i.e. the development of eComStation kernel continues)
New APM.ADD (1.7), Whatsnew: fixed external battery call, Check brightness control and other events, acpidaemon fixes.
New ACPI snooper (2.15), You need it if running Core 2 Duo in APIC mode or if you want manage IRQs.
ACPI is available via eComStation beta-zone.
Multimedia applications
T&V HappyPlayer, beta 10 - application to control TV tuners based on Brooktree BT8xx. Whatsnew: Ready for Central Remote Control
Central Remote Control - visit the homepage of CRC. This new subsystem gathers events from TV remote controls, notebook buttons, USB-keyboard multimedia buttons and translates them to commands for multimedia applications. The publication of beta-version is delayed, please notify us if you are interested in this product.


Screenshot: Central Remote Control flow
eCo Software support service
The hardware database contains more than 1030 reports of supported hardware. You can post new reports or add notes to published. Now gathering lists of USB devices used by eComStation users (VendorID, ProductID, Device name), Multikernel notebooks and computers, all-in-one printers/scanners, USB Keyboards and CardBus controllers.
Additional information: